*warning :i'll be using this throughout this session to cheer myself up*

this long hols made me think a lot.i've thought about everything.and,this evening when i was done pre-registering for my part 2, i came into a thinking. do i really wanna do this? i meant,should i pursue law for my degree?i don't know...but,it doesn't feels right.this is not it.it just not. i mean,i like reading law but i don't think i'm gonna make through...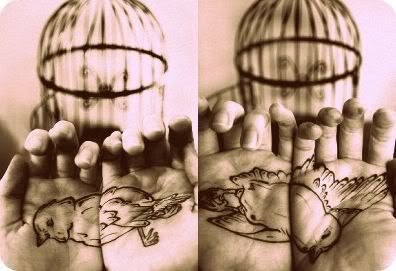 just looking at those subjects which i had to take for next sem and those people who surround me,make me think that i might be on the wrong path.i'm not sure whether LAW is what i really want.not anymore.as much as i like to be in the legislature community, it just feels like i won't be able to fit in.the harder i try to adapt,the awkwardness became clearer.God,i'm lost!yes,it will be easy for u to say.go for your dream lah,so ever...well,ur not the who have to choose whether to go for your heart,your mum or your logics.
ouh i wish i was a bird~